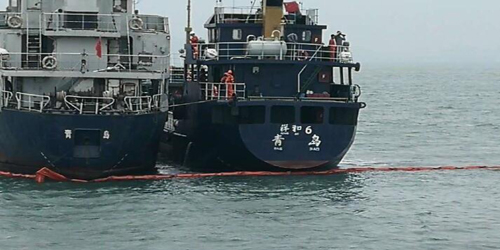 On the morning of the June 30,2017,near the Qingdao Port waters, Qingdao Hangshun Shipping Co., Ltd. had a emergency
collaboration with the Yilian Maritime Emergency union., they jointly launched a maritime oil spill emergency drill.
This drill is the oil l spill of the "Xianghe No.6 Tanker" as the background, which is signed the pollution prevention by Hangshun
Shipping Company. If we assumed that the tanker is leakage in fuel oil when they lightering during anchor, which caused fuel
oil to flow into the sea. Under this circumstance, after they detected through the oil spill monitoring system, in accordance with
the professional procedures for the implementation of the layout of oil boom, oil skimmer, biological oil dispersants spraying
and oil absorbent mat launching,and finally dealt with residual fuel oil and other measures.It made the simulation of the
incident oil spill promptly removed, and effectively controlled the spread of the pollution.
This drill is based on the "safety first, precaution crucial" principle, the aim is to further enhance the coordination with the
Maritime Administration Department in the oil spill emergency, and test the organization and command ability of emergency
people in the oil spill, and improve the ability of the staffs on site to deal with the emergency oil spill efficiency, so as to
minimize the marine pollution caused by the ship oil spill accidents.