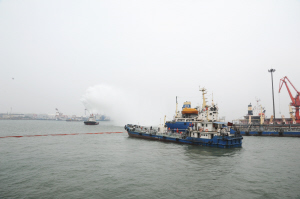 In order to upgrade the emergency command, coordination and disposal ability of the maritime emergencies, strengthen
the regional emergency assistance linkage and cooperation, during the safe production month, the Xingang Maritime
Bureau associated with China Marine Bunker Supply Company Tianjin Branch to jointly carry out the Xingang oil spill and anti-pollution emergency comprehensive drill.
This drill simulated when the "Jinyou No.4" Tanker carried out refueling operations, the oil hose burst, and it caused a
large amount of fuel oil into the sea. After the Xingang Maritime Bureau Command Center was received the report, they
immediately started the contingency plan, and then they quickly launched the clean-up forces, set up on-site command team, coordinated the Sea patrol ships for on-site alert, communicated with traffic control center for carrying out traffic center and deployed fire tug to prevent
secondary accident; when they simulated the process of the oil recovery of the "Jinyou No.7" Tanker, two sailors
accidentally fell overboard. The scene director actively organized forces to rescue and coordinated the medical lifesaving
forces.Finally, the oil spill was effectively controlled and recovered, the drowning people were rescued in time, and were
sent to the hospital for treatment, the drill was successfully completed.