On June 22, Jidong oil field organized to carry out oil spill emergency drill. Maritime Emergency Response Center, land
operation area, oil and gas gathering and Transportation Company participated in the oil spill and anti-pollution emergency drill, this drill firstly adopted "no scripts, not informing" way, the whole process was without a script design,
and the participating units carried out rescue work as it closed to combat.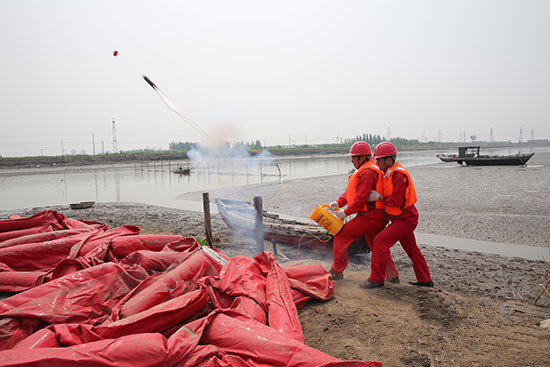 The Qinglong River is an environmentally sensitive area, which was laid a number of pipelines below. The drill simulated the
incident leakage of pipelines; the company quickly started the River Emergency om-site disposal plan. During the process of the drill, it had no script, no prior deduction, simulation of actual combat, which
intended to test the quick response and emergency disposal capacity of the companies and related units to the river oil spill, as
well as the coordinated combat capabilities.

At 8:30 a.m., oil and gas gathering and transportation company staffs found the perforation of high 17 RPM pipeline the Qinglong
River happened pollution. After received the notification, the company quickly started the River Emergency on-site disposal plan, and then they organize personnel and equipment to the scene for emergency disposal.
The staffs in the oil and gas gathering and transportation company qucily laid oil booms. The land operation area arranged
the personnel to carry on the hydrogen sulfide examination, and evacuated irrelevant personnel around, delimited the warning
area, closed the fire in the vigilance area and forbade the vehicles to pass. At the same time,they would close the relevant
production wells, put pressure of the leaking pipelines are, and add the temporary walls for the leakage points in order to
reduce the pollution into the river.

The staffs in the Jidong Recue Station of Maritime Emergency Response Center rushed to the scene.According to the current
situation, they respectively laid two oil booms in the upstream and downstream direction, which was to prevent oil spills into the
sea and polluted the upstream, then they used the Sea Hunter oil skimmer, hydrodynamic oil skimmer, the laying of oil
booms, the combined oil skimmer, and amphibious vehicles to carry out oil spill disposal.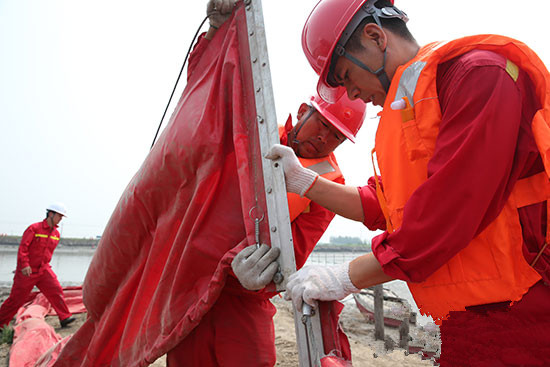 According to the introduction, the operation staffs in this drill were more than 80 people, and they laid a total of about 400 meters
oil booms and used part of the oil spill recovery equipment and oil dispersant spraying device. The drill was about 3 hours, the
oil spill was effectively controlled and the pollution was effectively removed. Through this drill, it improved the territorial clean-up power, strengthened disposal capacity, organization coordination and field command capacity of the river oil spill accident and
it ensured the stable local anti-pollution situation.