1. The Introduction of the High Precise Photograph System of "Porter" UAV (also named "LongYan")
UAV is the unmanned aerial vehicle controlled by wireless remote control equipment or its own program. It was used as drone aircraft for training for the first time in 1920s. Up to now, it has reached relative high intellectualization. The UAV's flight control system is the core and core parts of the UAV's system, which is the same as human beings' brain and is the key for achieving flight task automatically.
Our company has developed HL series flight control system with mature technique and begun to produce in a large scale since we went into UAV area in 1996. HL series flight control system, with excellent compatibility, is equipped to mini electric power, kerosene power, high-speed, regular layout, reversed tail, H-tail UAV and so on. The UAV hold the intellectualization function, like taking off, returning and landing with parachutes automatically. At present, they are widely used in army, forest, research, civil administration and so on, which gets high appraise from most of customers.
The high precise photograph system of "Porter" UAV, the main product of our company, is used for mapping, city digitization and other areas. Because "Porter" adapts traditional pneumatically distribution, it flies stably. What is more, it was added modern automatic flight control system, so it can develop its excellent performance. Therefore, the parameters of roll angle, lateral distance, pitch angle and heading discrepancy reach mapping level. "Porter", with above 100 km flight radius, can work in a large scale and reduce item risk. And it also can carry heavy load, like professional digital camera or aero camera.
2. The Main Parameter and Requirements of High Precise Photograph System of"Porter" UAV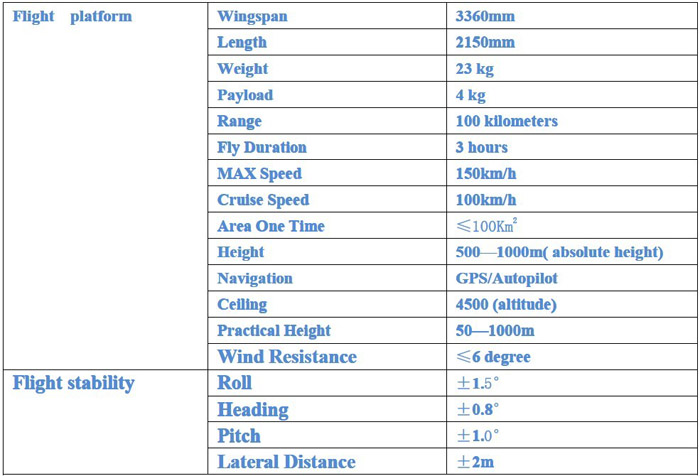 ⑴. "Porter" UAV adapts traditional distribution, which makes stable flight, accurate flight line, accurate photo coordinate point and exquisite picture.
⑵. "Porter" UAV, with 300 km endurance, can work in a large scale one time.
⑶. "Porter" UAV, with large payload, can carry large-scale graphic device, P/T/Z or other relative equipments.
⑷. GPS navigation and the higher navigation data update rate.
⑸. INS / GPS inertia navigation system
⑹. The flight control part combines all kinds of high precise transducer, measuring highly to pressure, speed, temperature, dynamic voltage, work voltage, revolution and other parameters. Furthermore, the control parameters measured and calculated, can reach photograph mapping requirements.
⑺. Data transmission rate can reach 115200bps. And the update rate of roll angle, pitch angle, lateral distance and heading discrepancy on mapping parameters can reach 72 per second.
⑻. High precise ( 0.1 degree ), high dynamic(73Hz), high rate ( 10G ) of three axes and 360°omnidirectional precise attitude.
⑼. The automatic adjusting function on line of precise and various PID parameters
⑽ . Providing 56 high-speed and real-time data (attitude data, measure data, flight data and INS data) and 224 control joint data
⑾. Using for all kinds of vehicles as analyses system of individual and precise data collection
⑿.The modern photo control and the remote measure data record during flight.
3. Where are the applications of high precise photograph system of "Porter" UAV? Guilin Hanglong Kexun Electronic Technology Co. Ltd, occupying with UAV's photograph image service, with plenty work experience, is in the leading position in a large scale photograph area and in photograph precision. At present, our company has hold technique about production of precise orthophoto map and later process about aero measure which can achieve seamless for large-scale image, orthophoto map production, city 3D modeling, national land surveys, city digitization, river basin digitization and so on after over ten years. The high precise photograph system of "Porter" UAV is the necessary part in these items.
4. The application and part of cases of high precise photograph system of "Porter" UAV 1) The Flight Trace of "Porter" UAV Picture 2 is in the area of photograph trail. The yellow line in electronic map is the task line planned, and the blue line is the real flight line of "Porter" UAV, with total plan area about 40 square km2 finished one time. The lateral distance of effective area is less than 2m after analyzing later data, which reached the highest precision at home.
5. Special Declaration
The users are responsible for all action and results to using the precise and special control materials of "Porter" UAV. Manufactures do not share any responsibility for that and we do not provide technology support and security promise for the buyers who don't purchase our products by normal way or agency. The buyers should provide business license copy (ID for person) to manufactures or agencies for registering use, usage range, product No. and assigning promise.