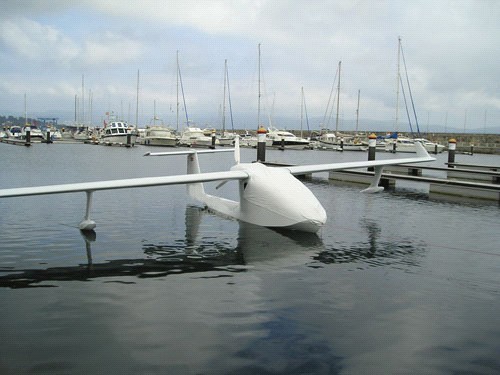 1. Instruction
21th Century, It's a new era with rapid development in ocean economy. The importance of Maritime Aero-technology has become increasingly prominent. The UAV which has been growing up at home and abroad, give us good chance for developing Maritime Aero-technology.
Guilin Hanglong Kexun Electronic Technology Co., Ltd, a company first using UAV in maritime patrol around china, make aerial surveillance for oil spill in Bohai Gulf of Tianjin Maritime, According to the practical application condition in such as marine patrol, marine flying, marine meteorology, marine environment and dynamic monitoring, we specialized in an amphibian aircraft which is named "LongYing" Amphibian UAV system.
The "LongYing" ,is a kind of amphibian aircraft with cost-effective、perfect function and high comprehensiveness. Besides the use in the maritime, it can also serve inland such as territorial survey, frontier patrol, forest fire prevention, electric power surrey, disaster prevention and reduction, firefighting supervision, geological detection.
The system contains aircraft and ground station, the two which transmit unidirectional and bidirectional image by airborne digital Image microwave and air-to-ground data transceiver, can finish airborne electronic equipment parameter, GPS information, sensor data, control instruction of autopilot, and ensure the real-time picture and video from the camera.
The ground station can track photographing and shooting to the airborne camera.
what's the prominent characteristic is, when flying in cruising altitude, remote (≥250km) monitoring and controlling ,it can be realized ,and get the real-time image, position, and coordinate, then will be convenient for the government to make accurate decision-making, it particularly suit for the State Fishery Administration to marine enforcing, sea area monitoring and islands' resource surveying etc.
The equipment bay of "LongYing" with high seal performance can be separated from the water to avoid interference from splashing. The Rotax912s with 100HP is the most professional aircraft engine at present, that let the distance of take-off and landing can be up to 100 and 200m, while the V-tape hull can defend 30cm waves, and the higher wingspan prevent it from damage when take-off and landing.
The fuselage is made by Carbon Fiber High Density Composite, with high corrosion resistance. LongYing stainless steel and Anodic Aluminum Oxide of the mechanism parts and screws, the all ensure the maintenance cheaper.
The aircraft platform is made by an import, advanced, and mature hardware of amphibian aircraft with 2-seater, the pneumatic design and high mounted wing let it easy to be controlled automatically. The wing and horizontal tail is movable, can be convenient to use truck and trailer for transporting.
The ground system is combined with vehicle devices, ground station equipment, and remote control equipment. The vehicle devices contain vehicle ground control station, omnidirectional and high gain directional receiving antenna, bidirectional data module, high sensitive microwave receiver, high-performance computer, digital image storage unit, big LCD and power. The parameter or airline can be changed instantaneously by using HangLong Smart@GCS UVA ground station software.
The flying system is combined with the airframe, power equipment, power supply, automatic pilot, assigned payload, airborne turret, photographing system, long-distance data, image transmission transceiver, image stacking module etc.
2. Characters
􀁺 large payload, long cruising distance, longtime endurance, fast speed, amphibian;
􀁺 self-navigation, can be autonomous navigation flying without intervention;
􀁺 directional wireless data communication, real time display and change flying data;
􀁺 three long-distance: remote wireless data return, remote wireless image return, remote wireless telecontrol;
􀁺 all the information such as longitude, latitude, height etc. can real time display in the monitor;
􀁺 after automatic identification and management of the download photos by using HongLong Special GPS data processing software, it can show the details of each photo;
􀁺 airborne camera can be automatic through the preprogrammed;
􀁺 can form a recorder and replayer of the track, record the whole fight course;
􀁺 short gliding distance, no need to special airport, it can be taking off on the sea, midland reservoir, river and wide cement pavement;
􀁺 can defend 7-grade wind;
􀁺 be widely used in national defense, scientific research, anti-terrorist, forest fire prevention, flood control, maritime monitoring , frontier patrol and aerial photograph etc.
3. Parameters